The Regional National Cemetery Improvement Corporation (RNCIC) was incorporated in 1984 to aid in the expansion and improvement of the Fayetteville National Cemetery. The incorporators were Col. Larry L. Browne, Jr., Ken Gibson and John Wm. Murphy. These three were also the RNCIC's first Board of Directors. Clem McClelland was our first president. It is a legally constituted, not-for-profit corporation (501 c 3) whose officers and directors are volunteers working without compensation. Membership in the RNCIC is open to all interested parties. We have kept the Cemetery open for burials and increased its size by over 200% since our founding. Without past donations for the purchase of land, the cemetery would be closed to burials today.
Our mission is to secure land adjacent to the Fayetteville National Cemetery to ensure the cemetery can continue to receive veterans for burial. Veterans living in Northwest Arkansas, as well as many veterans living outside our region, have planned their final resting place here. This desire stems from having been born and raised in Northwest Arkansas, having close family ties here, or having made their homes in the area following their service.
On July 17, 1862, Congress enacted legislation that authorized President Abraham Lincoln to purchase "cemetery grounds" to be used as national cemeteries "for soldiers who shall have died in the service of the country." National Cemeteries were established following an Act of Congress of February 22, 1867 and put under the jurisdiction of the War Department.
The War Department purchased four parcels of land in Fayetteville totalling 6.009 acres from Stephen K. Stone, merchant, on May 20, 1867 and David Walker, lawyer and judge, on June 14, 1867. This land constituted the Fayetteville National Cemetery which opened July 2, 1867. The Cemetery has been placed on the National registry of Historic Places and the Civil War Discovery Trail. It has also been declared a National Shrine.
The present size of the Fayetteville National Cemetery is nearly 16 acres and has over 10,398 interments. The increase in size has come about from many donations of land by the Regional National Improvement Corp. (RNCIC) beginning on August 1, 1989.
Since September 1, 1973, responsibility for the national cemetery rests with the Department of Veterans Affairs. Today, there are 136 national cemeteries in all. The Department of Veterans Affairs, through its National Cemetery Administration, administers 120 of them. Two national Cemeteries, Arlington and Soldiers Home, are still administered by the Army. Fourteen national cemeteries are maintained by the Department of the Interior.
More than 2.5 million Americans, including veterans of every war and conflict - from the Revolutionary War to the Iraq and Afghanistan Wars - are honored by burial in VA's national cemeteries. More than 14,200 acres of land from Hawaii to Maine, and from Alaska to Puerto Rico are devoted to the memorialization of those who served this nation. Many of the national cemeteries have been closed to further burials and some are open only for cremations. Expansion to any existing cemetery can only be done by adding adjacent usable land. Any acquisition must be donated to the National Cemetery with an unencumbered title and the land cleared of all structures, utilities, pipes, sewers, etc.
We Need Your Support! Many people have given generously in the past. Your giving will be deeply appreciated and donations are tax deductible under current law. The RNCIC tax identification will be furnished upon request. Find out more about us from news articles linked below. Please become a member and/or make a donation. We are the only organization of our kind in the country.
Print out the contribution/donation form and mail it with your check to:
Regional National Cemetery Improvement Corp.
P.O. Box 4221
Fayetteville, Arkansas 72702.

Now you can donate online. Just click on the Donate button

---
WE ARE EXTREMELY GRATEFUL FOR THE HUNDREDS
OF DONATIONS AND OTHER FORMS OF SUPPORT
WE HAVE RECEIVED SINCE 1984 TO HELP US ACCOMPLISH OUR GOAL
OF KEEPING THE FAYETTEVILLE NATIONAL CEMETERY OPEN FOR BURIALS.
THANK YOU VERY MUCH!
---
The monthly board of directors meetings are at 10:00 a.m. on the second Saturday of the month
at the American Legion Post 27, 1195 So. Curtis Ave., Fayetteville, AR or via Zoom.
Members and guests are always welcome.

The 2022 RNCIC Annual Meeting was held January 15, 2022 at 10:00 a.m. via Zoom due to the pandemic.
Five members of the Board of Directors were elected.
For three-year terms (22-23-24) Steve Long, Cliff Madewell, Erin Mize, and Christine Thompson.
For a two-year term to fill a vacancy (22-23) Peggy McClain.
A Board of Directors meeting followed to elect officers for 2022.
Steve Real, President - John Barnes, Vice President - Christine Thompson, Secretary - Steve Long, Treasurer.

BOARD OF DIRECTORS:
Steve Real, President
John Barnes, Vice President
Christine Thompson, Secretary
Steve Long, Treasurer
Jake Lamkins
Cliff Madewell
Peggy McClain
Roger McClain
Dan Webb
Merle Williams
Anton McBride, ex officio

---
LIKE and FOLLOW us at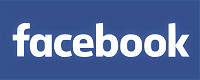 ---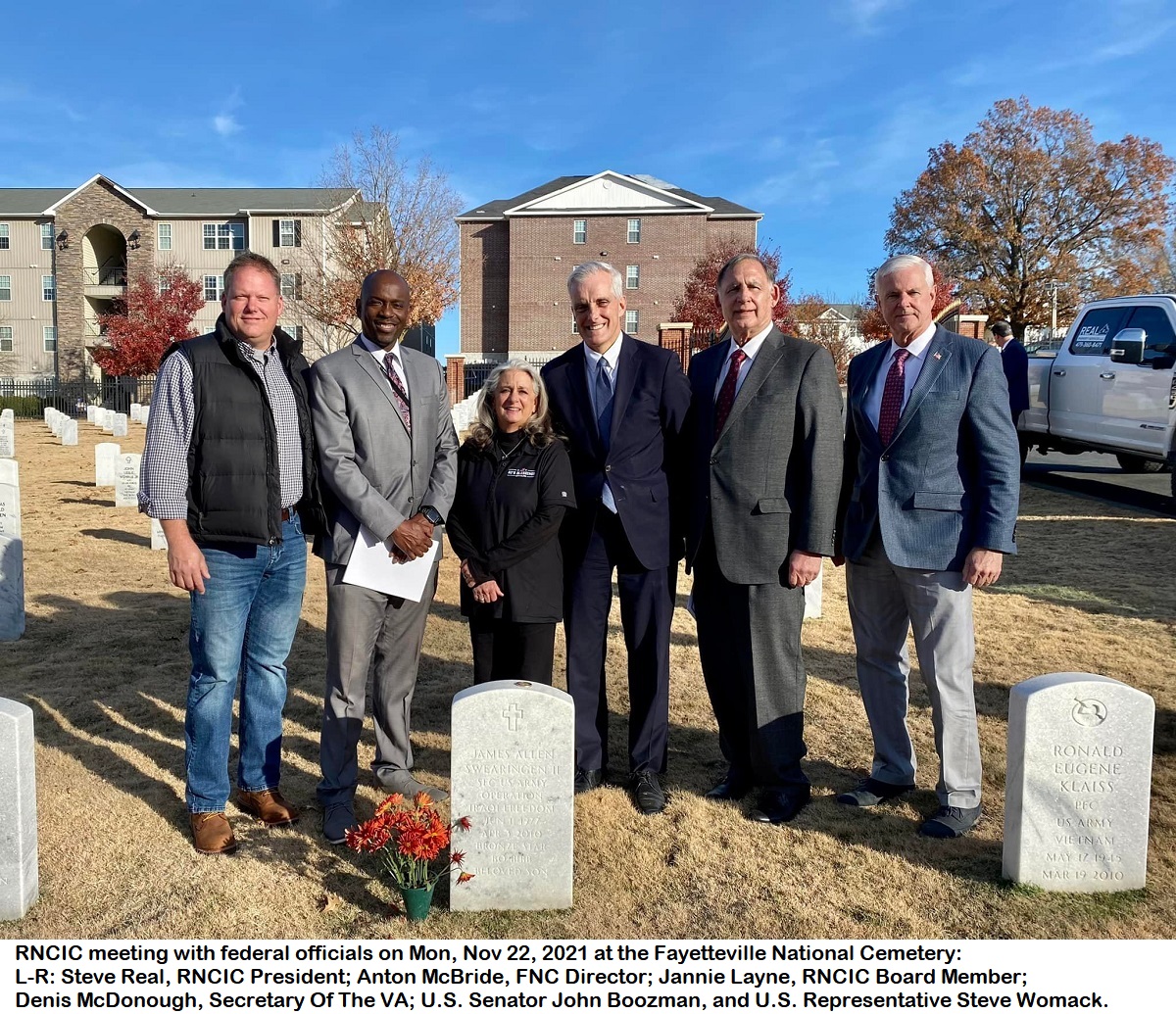 "Jannie, Anton and I had an incredible opportunity today to speak with the Secretary Of Veteran Affairs
Denis McDonough from Washington DC along with Senator John Boozman and Representative Steve Womack at the FNC.
I explained and educated them about the RNCIC, gave them all a history book as well as a pamphlet
while talking about the incredible work that has been done to donate the 13.76 acres over the years
to prevent burial closing in 1989 as well as our current funding needs to acquire surrounding land.
Jannie spoke on behalf of Bo's Blessing and was recognized for all of her efforts helping Veterans.
Thank you Jannie for what you do!!
This is the exposure that's critical to provide the RNCIC the support we need to continue our mission!!!"
-Steve Real, RNCIC President
---
CHECK OUT OUR NEW UPDATED
HISTORY OF THE RNCIC
---

This schematic map shows how much the RNCIC has added
to the Fayetteville National Cemetery since our founding in 1984.
Our latest purchase is the lot in gray on the left side.
We closed on it in Aug 2019.
We are in the process of giving it to the cemetery.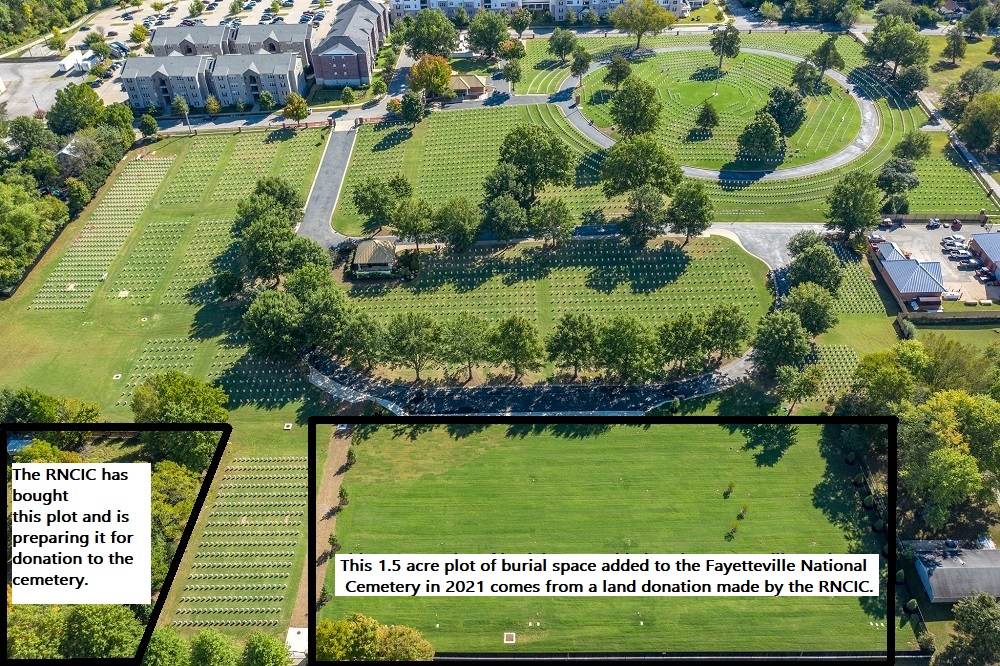 An aerial view of the Fayetteville National Cemetery
shows the latest developments in 2021.

---